nov model a3 xp600 glava digitalna t-shirt anajet tiskalnik dtg

Specifikacije
---
Usage: Cloths Printer
Plate Type: Digital inkjet
Pogoj: Novo
Dimensions(L*W*H): 115*63*50cm
Weight: 65KG
Samodejna stopnja: Samodejno
Napetost: 110V / 220V
Printhead: DX5 print head
Resolution:: 5760X1440
Ink: pigment ink
Printting Size: A3(420mm*297mm)
Printing Speed: Approx. 1 min 43 sec per A3 sheet
Printing hight: 10cm(up to 17cm)
Cleaning System: automatic ink system
Colour: C,M,Y,K + white anajet printer dtg
Materials: cotton t-shirt
RIP Software: AcroRip
Tip: Digitalni tiskalnik
Zagotovljene poprodajne storitve: Inženirji so na voljo za servisiranje strojev v tujini
Opis izdelka
---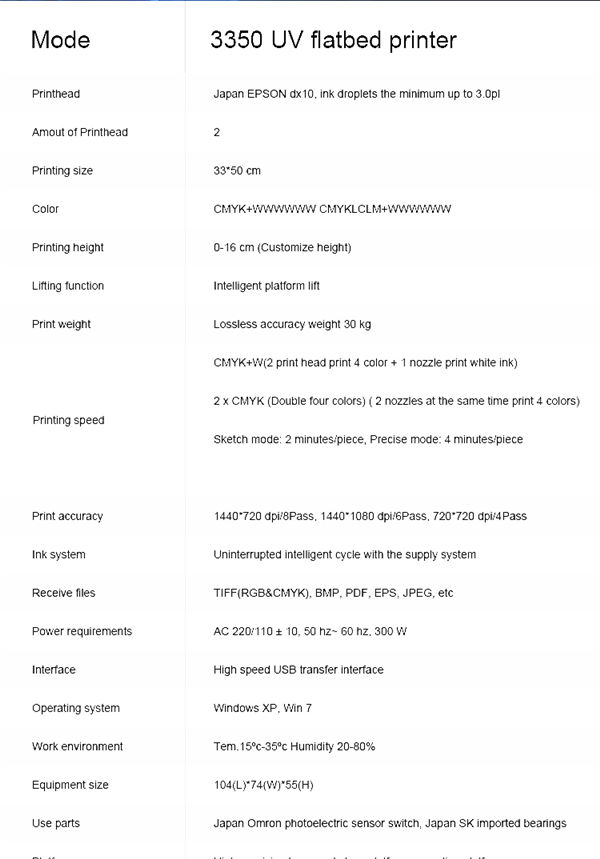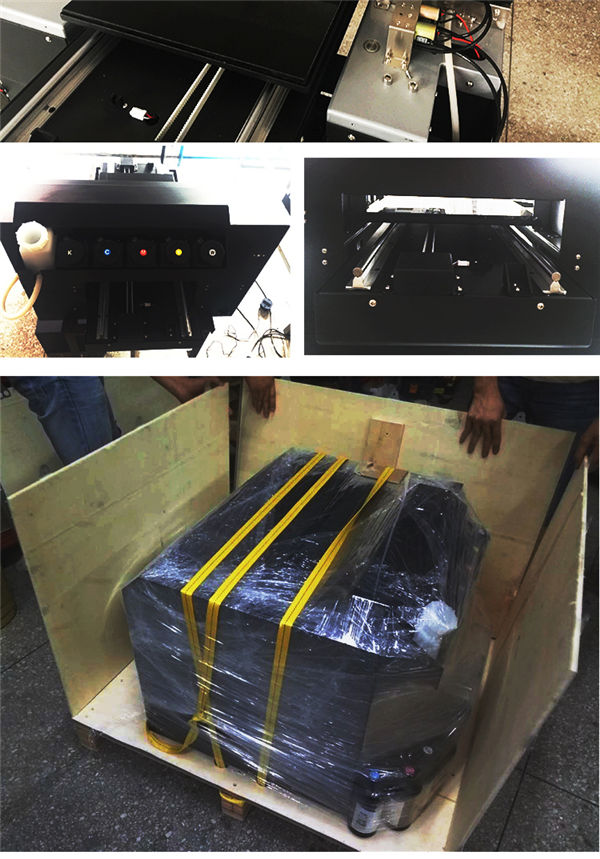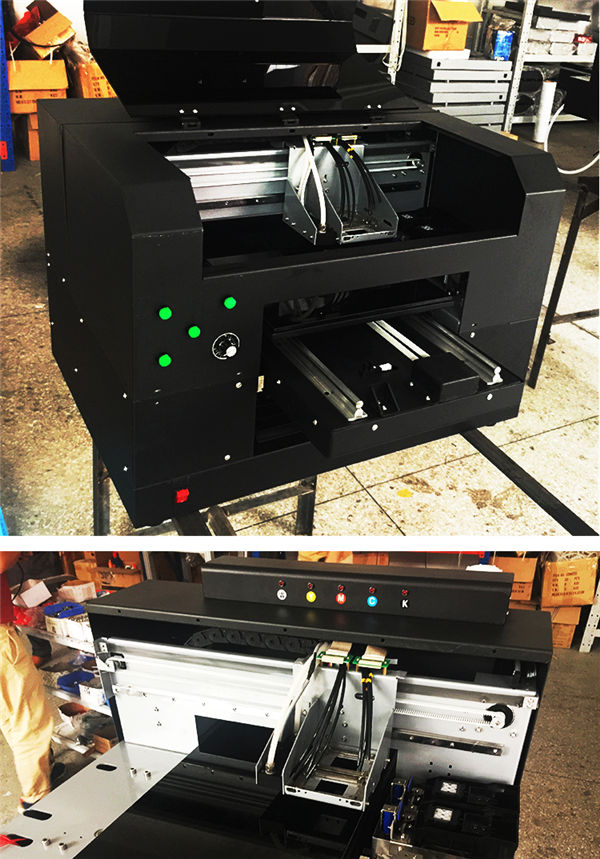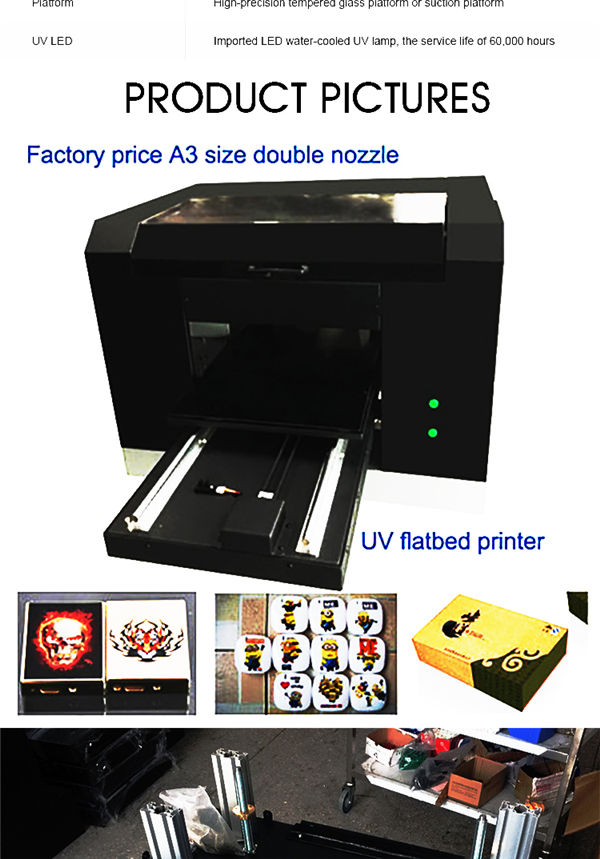 Pogosta vprašanja
---
1. Q: Why choose us?
A: We have export our printer over 100 countries, including some country name we don't heard before.
2. Q: How much is it?
A: That is important question, but useless. The price range is on the TOP, it's real!!! At lease we need to know your requirement of machine size, option, software…. Or just let us know your job type. Then we can offer the price with that condition.
3. Q: How much is the shipping cost?
A: Same answer, let us know the condition, like sea freight or air freight, to the port or to the door, port of destination or door address, you know machine is a big thing, not all space we can send to. We need those condition to checking the cost.
4. Q: How long time it will reach my place?
A: Sorry we don't know exactly, bcz delivery term condition different, the time is different too, but if you can give us more detail, we can calculate how many days approx. but all the machine can be delivered from factory within 7 working days
5. Q: is there have any discount?
A: maybe, but if have any discount our sales will let you know at first time.
6. Q: why other supplier offer lower(higher) price than you, it looks like same printer.
A: Bcz they need to make money, but different way:)
7. Q: Are you manufactory?
A: YES!YES!YES! even the iphone' s manufactory is not APPLE, but we are the manufactory:)
8. Q: what about the warranty condition?
A: 1. One year warranty starts from shipping date.
2. Exchange problem parts free by Non-human factors, not including ink system such as printhead, cap station, ink tube, ink pump, cartridge, damper etc.
9. Q: do I need order some spare parts together with the machine?
A: YES!YES! We suggest you buy one set of control board with the machine, even it has warranty, but you need to pay the express fee, and it will take a little long time, has board on hand can save your time to print job! That's the good advice, yes it is:). We also give discount for the time order spare board with machine together(80%)
10. Q: can I use other ink which we buy local?
A: if you really don't like our standard ink from us, we feel so sad:(!! But you can, just be carefully choose the Compatible ink. But we can say the best one is our standard ink, bcz design and test for a long time for our machine, more than other!!!
11. Q: do you have English manual, video of training?
A: YES!YES!, full of manual and video on youtube you can see! If you have some requirement video, you can apply to us, give us time, we will make it for you.
12. Q: what kind of your after service?
A: 1. Engineer online service by Skype, Whatsapp, etc.
2. Remote your computer to setup software and test machine if needed by team viewer.
3. Free manual and installation video
4. Our engineer can provide door to door service if you provide trip fee.
we are not online 24H*7, but we have online HELP web 24H*365 days, for human service, we guarantee reply within 24 hours(working day).
13. Q: what is the cost of printing?
A: Sorry I don't know!! Bcz the ink is different price. But we know about below:
UV črnilo
90-110sqm/L
Textile ink
80-100sqm/L
Eco solvent ink
100-120sqm/L
14. What can I do before I buy machine?
A: pls let us make some sample for you to confirm the result of machine first. We can prepare to take photo to show you, or delivery to you(samele is free, but delivery fee is paied by your side, here you can use payple).
And prepare the enough money:)
15. Q: Can I or my employee use machine well?
A: Sorry I don't know!!! But in here, girls can operate machine to print sample to client, you can compare any different between your person and our girls:)
16. Q: can I put my logo on machine?
A: YES!YES! it means you have big order:) (min. order quantity)
17. Q: can I be your agent, and protect our market for us only?
A: That's great great great!!! It means that you have good sales team, good service team, agree don't sell other brand of printer, attend exhibition local market and a little big order quantity:), of course you got us focus to support you!!
18. Q: My friend ask me to find a printer for him, can I trust your machine?
A: difficult to say, we hope to be your friend too:)
19. Q: What is the ink cartridge of your printer?
A: 1.Our printer use CISS (Continuous Ink Supply System) , when the ink runs out , we just need to fill ink in and do not need to change the ink cartridge.
2.CISS(Continue Ink System Supplier). CISS have no chip to limit ink.(If have chip,you just can chose the ink that chip support.)
20. Q: Delivery term?
A: 1. We can make an invoice with low price to reduce your customs tax. But if you don't tell us firstly, we do it as normal.
2. After receiving full payment, we need 3-7 business days to prepare goods.
3. All of your goods will be packed in carton or by plywood. If goods are damaged during transportation, plz inform our servic