vroče prodajo bele dtg tiskalnik t-shirt tiskarski stroj

Specifikacije
---
Uporaba: Tkanine Printer
Tip plošče: tiskalnik s ploščato ploščo
Tip: brizgalni tiskalnik
Pogoj: Novo
Avtomatski razred: polavtomatski
Napetost: 110V / 220V
Dimensions(L*W*H):100*82*54cm
Weight:90kg
Garancija: 1 leto
Print Dimension:42*60cm
Ink Type:Textile ink
Printhead:2 heads*DX8
Print resolution:720*1440dpi
Tshirt printer speed:1 minute for A4 size
Advantage:High speed low invest cost
Ink Colors:CCMMYK+white *6
Opis izdelka
---
Print size: any size within 42*60 cm.
Acceptable object height: 0 – 10 cm
Printing Technology: DX7 Micro Piezo / 180 nozzles * 6-colors * 2 heads / inkjet print size / double-head
Function: print photo, letter, logo design on product within 42*60 cm size and 10 cm height.
Textile ink: print on t shirt
White & Color ink printing in same round with high speed printing: one head print white, another print color, high efficiency and speed.
Industry-leading ink technology - for colorful, vibrant prints, beautiful colors
Individual, large Continuous Ink Supply System - 150 ml Individual, large refill cartridge - refill ink less often / no need to change cartridges.
Specialized RuiCai print software - support white and color print in same round, built-in color curve, auto-selecting inks - achieve optimal density and superior contrast.
Lastnosti
---
Digital printing - print any image from computer onto product surface DIRECTLY.
Specialized textile ink - colorful, vibrant print effect.
Low print costs - average costs about $0.1 for a3 size white t shirt.
2 heads printing – 12 channels (2 heads * 6 color channels) high speed printing at same time. White and color printing in one round – make work easier and save time.
Ball-screw drive system - more precise table moving, durable life time and weight bearing ability.
White ink stirring system – less ink sediment – better white printing quality and less ink clogging.
Auto flash-spray system – spray out specified inkjet quantity during specified interval, to prevent ink clogging.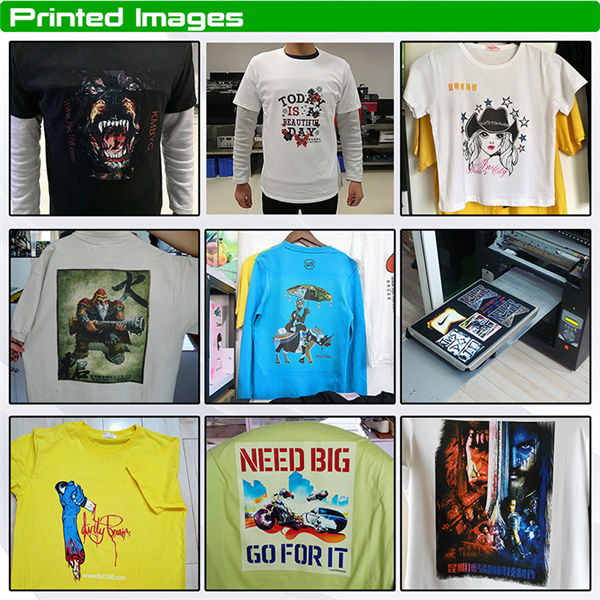 | | |
| --- | --- |
| Model |  Flatbed Printer |
| Glavna plošča | KMBYC |
| Tiskalna glava | DX8 * 2 heads |
| Konfiguracija šobe | 180 nozzles * 6 colors / head * 2 heads |
| Min. ink droplet size | 1.5 pl |
| Max. print resolution | 720*1440 dpi 32 pass (optimized) |
| Barve črnila | C*2 M*2 Y K + W*2 |
| Print software | RuiCai |
| Max. print size | 42*60 cm |
| Hitrost tiskanja | Photo printing: as fast as 1 minute for A4, 2 minutes for A3, 3.5 minutes for A2. |
| Acceptable object height | 0 - 10 cm |
| Dobava črnila | CISS + Auto white ink stirring + Auto head-clog-preventing ink spray |
| Pogonski sistem | Kroglični vijak + servo motor |
| Net weight | Approx. 90 kg |
| Dimenzija | Approx. 100*82*54 cm |
| Bruto teža | Approx. 140 kg |
| Gross Dimension | Approx. 113*93*89 cm |
| Delovni pogoj | |
| Računalniški sistem | Windows |
| Connectivity | High-Speed USB 2.0 |
| Napetost | 110V / 220V |
| Working power | Approx. 40W |
| Operating temperature | 50° to 95° F (10° to 35° C) |
| Operating humidity | 20% do 80% |
| Garancija | One year (except for print head, cleaning unit, ink system, or human damage) |
naše storitve
---
Excellent after sales services, maintenance solution with full range of accessories. There is one year warranty for printer (excludes print head, CISS/cleaning unit and human damage). We will replace spare parts for free; after one year, we also provide warranty, you only need to pay for spare parts. Once you become our client, you will have our lifelong technical support, our professional overseas engineer will provide technical support through e-mail, verbal communication, video, etc. When you receive printer, our technician will provide you free online operation training until you can operate printer alone.
Pogosta vprašanja
---
01.What is your product range?
With the help of the coating and the ink,our products can print on any materials,the metal,the glass,the wood,the plastic,the TPU,the PVC etc.
02.Are you a manufacturer?
Yes,we have been in the printer field for more than 13 years,the fist one in China stepped in this field,now also the leader in China.
03.What information should i let you know if i want to get a quotation?
.What matierlas and size that you want to print?
.Do you want to do the wholesale products,or just the DIY shop,small business?
.If possible,you can show me what you exactly want to print?
04.Ko tiskamo, kakšen format je na voljo pri tiskanju?
The Popular Ones:PDF, CDR, AI, PSD
05.Ali je mogoče dobiti vzorec?
Da, vzorec za tiskanje je brezplačen, vendar morate plačati prevoznino.
06. Ali pregledate končni izdelek?
Yes.Each step of production and finished products will be carried out inspection by QC deppartment before shipping.
07.Kako boste poslali končne izdelke?
-Ob morju
-Z letalom
-By couriers, DHL, FEDEX, UPS etc.
08.What adavantages do you have?
1.Puntual Have you orders met with late delivery?We are the manufacture,it assures we have the ability to carry out the production schedule for puntual delievery.
2.More than 13 years service.We have over 13 years experience in this field.That means we can preview the problems for the orders and production.Therefore,it will make sure to deduce the the risk of bad situation to happen.
3.Strict QC;For each order,strict inspection will be carried out by the QC department before shipping.The bad quality and situation will be avoided within doors.
4.Customers all over the world Enough experience in forign trade,we have many big customers in Australia,USA,Germany etc.
5.Certificate CE-EMC,CE-LVD,SGS etc will gurantee ;the production process in good orders,and products in high quality.