a4 plošča dtg neposredno na tekstilni tiskarski stroj za tiskanje tekstila

Specifikacije
---
Usage: Paper Printer, Label Printer, Card Printer, Tube Printer, Bill Printer, Cloths Printer, garments, cutting pieces
Plate Type: inkjet printer
Tip: brizgalni tiskalnik
Pogoj: Novo
Samodejna stopnja: Samodejno
Voltage: AC220V/50Hz
Dimensions(L*W*H): 6000x1580mmx800
Weight: 300KG*N
Product name: t-shirt printer
Print Head*Number: (EPSON)5113*2/DX5*2
Ink type: Coating
Printing Height: 2-120mm
(A4) Printing Speed: 4PASS/375Pcs/h, 6PASS/300
Outputing Resolution: 720*720dpi/360*1080dpi
Media Type: Garment, Cutting Piece, Cloth,
Printing color: C M Y K
Key words: Automatic flatbed printing machine
Customized: yes, Length can be extended
Zagotovljene poprodajne storitve: Na voljo je center za čezmorske storitve
Digitalni tiskalnik
---
Postavka

Parameter

Max Width of Crossbeam

2930mm

Max Width

1580

Max height of Crossbeam

1220

The Height of Garment Plate

800mm

Length(can be extended )

n*1500+150mm

Crossbeam head

150kg

Frame Weight/Section

120kg

Sušenje

35 kg

Working Voltage

AC220V/50Hz

Moč

Max Power Including Drying

5.5KW

Power of Drying

5KW

Average Power Consumption

0.5°/H(without dryer)

Print Head*Number

(EPSON) 5113*2/DX5*2

Črnilo

Coating

Glass Size

450X550

Max Printing Length

1500mm*n-1500mm (Length can be extended according to your demand)

Višina tiskanja

2-120mm

A4 Size Printing Speed

4PASS/250pcs/H ,5113 375 PCS/H

6PASS/200pcs/H,5113 300PCS/H

Outputing Resolution

720×720dpi

360×1080dpi

Printing Speed for Cloth

30㎡/H

Printing Costs

≈1.4USD/㎡

Mediji

Garment, Cutting Piece, Cloth, etc.

1. Altitude : Below 1000 Meters

2. Working Environment Temperature: 15-30℃

3.Environment Humidity : 40%-60%

1. Computer basic operation

2.Get technical support by telephone

1. CPU: i5, i7 or above

2.Memory: more than 8GB

3. HDD:1T mechanical storage options,C disk space 100G

4.Graphics: 2G Discrete Graphics

5.Operating Systerm: Windows 7 or above

Programska oprema RIP

1. Photoshop: Pre-Pattern Processing

2.RIP Software : Maintop,Wasatch

3.Epson Print Management Systerm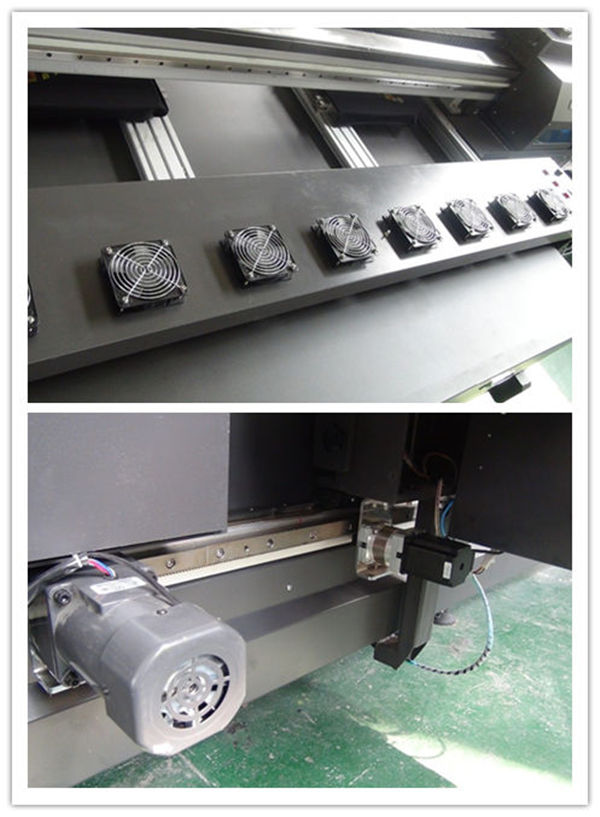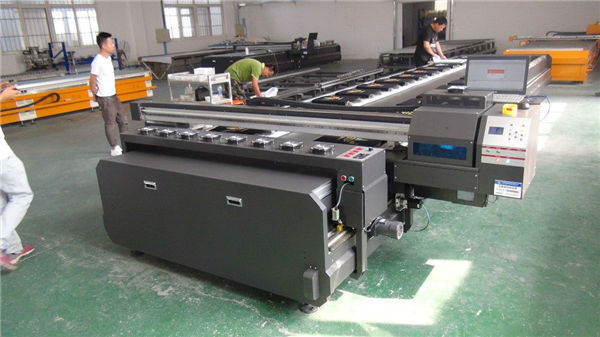 Machine Features
---
1.Wer Slideway: Janpan advance THK mute slipped
2.Wer adopt Leadshine servo motor with Japan UNIENTI timing belt precision driver.
3.Wer slideway: Taiwan high quality CSK Slider,Line rail
4.Wer adopt Schneider servo motor with muted helical rack and stable driver.
5.Wer is manual lift control structure.
6.Magnetic ring shielding Communication line
7.Safe Slide-Touch Wire Power supply system
8. The length of the whole machine can be infinitely extended.
9.The frame adopts one piece of welding, CNC whole processing, stable struction, high precision.
10. with continuous drying module
11.High printing speed, high precision and stable operation.
12.It is widely used in garment,cutting piece,cloth,etc.
Advantages of the Flatbed Digital Printer
---
Hitrost
Fast, cost-effective production of large-format fabric printing for production runs.
High-quality
Achieve higher standards of quality on the widest range of fabrics.
Flexibility
Enabling customers to bring new ideas faster to the market.
Reliability
Guaranteed production capacity and image quality
Lastnosti
---
1.Without edition, print fast, low cost, instant, low power to break the limitation of traditional production of color and printing, can print any type.
2.Printing white+color composite process integration design, brunest fabrics printing aost reduction, improve the capacity.
3.Have the orign flash spray function,guarantee in the protection of nozzle, in the absence of any task in the process if software support to print flash spray to the origin.
4. Stroji imajo funkcijo skok belo, lahko prihranite več časa za uporabnika.
5.Print in emergency can use software comes, the features of the suspension can wait to solve the problem and then print, thus avoiding the user material damage.
Naša služba
---
1. Warranty: The warranty time is one year. Quick-wear part is excluded. When warranty date expires, lifetime maintenance service is provided.
2. Payment item: We accept 30% T/T as deposite and 70% T/T balance before shipment. T/T, Western Union, Alibaba Trade Assurance payments. For those orders less than 1000USD, we accept PayPal to pay.
3. CE certificate: For every products we have CE certificate.
4. Installation: We send engineer installation for automatic oval machine, other model machines we send installation video and document for guide.
5. Shipment cost: All the price we quote is factory price, if you need FOB or CIF, contact me by the bottom phone or Whatsapp.
Pogosta vprašanja
---
Q: Are you a factory or a trading company?
A: We are factory manufacturing packaging machines and we provide perfect OEM and after-sale service.
Q: Can you send me the video to show how the machine works?
A: Certainly, we have made video of every machine and uploaded them to Youtube.
Q: What should I take care when using the machine?
A: Keep the machine away from thinner and other chemical liquid.
Q: How to maintain the machine?
A: Check the connection part and clean the screen frame regularly.
Q: How can I pay my order?
A: We accept T/T, Western Union, Alibaba Trade Assurance payments. For those orders less than 1000USD, we accept PayPal also.
Q: Do you have a CE certificate?
A: All machines have a CE certificate.