flex banner vinil zidni papir na prostem tiskalnik

Specifikacije
---
Usage:wall printer
Plate Type:wall printer
Tip: brizgalni tiskalnik
Pogoj: Novo
Samodejna stopnja: Samodejno
Napetost: 220V
Dimensions(L*W*H):500cm*75cm*256cm
Weight:95Kg
Ink type:water based ink
Printhead:Epson DX7 or Epson 196
Application:wall indoor and outdoor
Print speed:3-6 square meter
printing size:4.5m*1.9m
Product name:wall paper printer
Zagotovljene poprodajne storitve: Inženirji so na voljo za servisiranje strojev v tujini
Aplikacija izdelka
---
The wall printer is used to print pictures on wall directly, and can instead of a part of painting pictures by hand on wall, and it can increas the speed, and can give you a beatiful world.
You can take it to decorate your living room, your bedroom, children's room. you can paint the restaurant, hotel wall by it, and you also can decorate the kindergarten by the wall printer.you can supply paint the culture wall outdoor, you can make advertisement on wall outdoor.
all by all, the wall printer can supply you a colored world.
WER wall printer adopts muti-axis computer control system. The machine is connected to the computer via USB cable. As long as the designed pictures(photos) into a computer, such as: landscape, character, traditional Chinese painting, oil painting, frameless painting, calligraphy and painting, ink painting, gouache, flowers, birds, animated cartoon all can print on the wall directly; the operation is simple, convenient and quick, spraying is drying. The output is fast, efficient, flexible, can reflect the color texture, gradient color, intermediate color effect.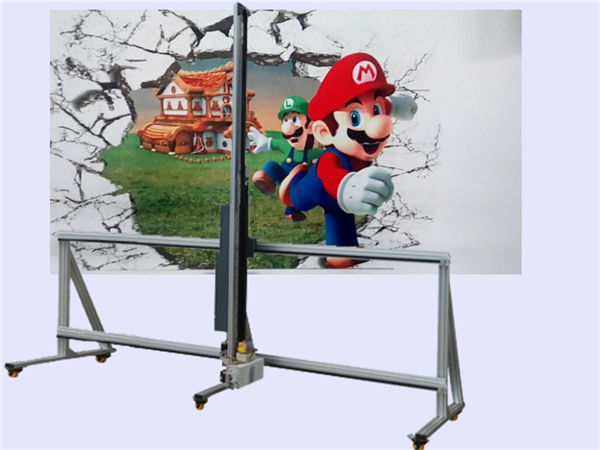 | | |
| --- | --- |
| Inkjet technology | Intelligent micro-piezoelectric pressure inkjet |
| Črnilo | Special ink |
| Sistem za dovajanje črnila | 88ml positive pressure continuous feed ink system |
| Wall applicable | Rigid plane wall such as putty wall, latex paint wall, white wall, imitation porcelain wall, concrete wall etc |
| Ločljivost tiskanja | 720*1440dpi, 720*720dpi,720*360dpi. |
| Moč | 220V±15% |
| Pogostost | 50Hz |
| Dynamo | Servo/step |
| Smer tiskanja | Vertical |
| Velikost tiskanja | 1.9m*4.5m |
| Application environment | the wind below level 5/5-35℃/without rain or snow |
| Storage environment | Dry -20℃-60℃ |
| Noise | Standby<20db, printing<55db |
| Hitrost | 2pass 8㎡/h, 4pass 5㎡/h, 8pass 2.5㎡/h |
| Main chip | America altera 4 |
| Memory chip | Samsung s3.16G memory |
| Connection port | USB |
| Signal transmission | Cable |
| Control panel | Chinese/English |
| Barve | Black, red, yellow, blue 4 colors |
| Printing thickness | 10-15g ink or 15-20ml ink/㎡ |
| Distance control | Automatically adjust the distance between the wall and the printhead (single sensor) |
| Outer size | Length 5m*width 0.75m*height 2.56m |
| Utež | 95Kg |

Glavne značilnosti
---
1) Simple structure in linear type ,easy in installation and maintation.
2) Adopting advanced world famous brand components in pneumatic parts ,electric parts and operation parts.
3) High pressure double crank to control the die opening and closing.
4) Running in a high automatization and intellectualization,no pollution
5) Apply a linker to connect with the air conveyor ,which can directly inline with filling machine .
6. Avoiding the disadvantages
Prednosti
---
1. Low speed and high price speed and high price in traditional wall painting.
2. The color of mold decals is single, low precision and easy to be disjointed from home decoration.
3. Without lots of selections in soft-mode painting.
7. The painting pictures printed by our wall paint machine are exquisite and realistic, the color reduction is high, the stereo feeling is strong, let the person has the aesthetic feeling of the environment.
8. Our wall printer is with high work efficiency. Can print 3-6㎡/H, and only spend 15-20ml/㎡ ink, the cost is low.
9. WER painting machine support JPG, tif, BMP, ps, eps format images, image, optional is strong, you can also design the images according to your individual favor. Bring to your coloured drawing or pattern scheme with abundant creative space.
10. WER printer use import special wall waterborne pigment ink. Ink has the characteristics of anti- ultraviolet ray, anti-peeling, anti-conjunctiva, durable, and non-toxic and odorless, green environment, etc.
Printing Effect
---
Storitve
---
Out wattanty time is 1 year, do not include ink and printhead, and you can contact us when you meet the aftersales problem, we will do our best to get your satisfaction. if you interested in our wall printer, you can contact us please.