trgovina na debelo kingt yg-4550 novi a4 velikost uv flatbed tiskalnik

Specifikacije
---
Usage:apply for all flatbed materials printing
Tip plošče: tiskalnik s ploščato ploščo
Pogoj: Novo
Dimensions(L*W*H):890cmx1300cmx650cm
Weight:135kgs
Avtomatski razred: polavtomatski
Voltage:100-110Volt/220-240V
Structure:Industrial Structure Frame with Heavy Duty Y-Bar
X&Y Motor:High Quality Servo Motors
Maximum Print Size:45cm(Width)*50cm(Length)
Printing resolution:720*600dpi,1200*900dpi
Printing direction:Uni direction
Printing Technology:Variable Dot Printing(Grey Scale Printing)
Ink type:UV LED Curable Inks
Ink Color:C,M,Y,K White(Standard), Varnish (Optional)
Ink Capacity:500ml Bottle
UV Technology:1*6-8W UV LED Lamp
Tip: Digitalni tiskalnik
Zagotovljene poprodajne storitve: Inženirji so na voljo za servisiranje strojev v tujini
Opis izdelka
---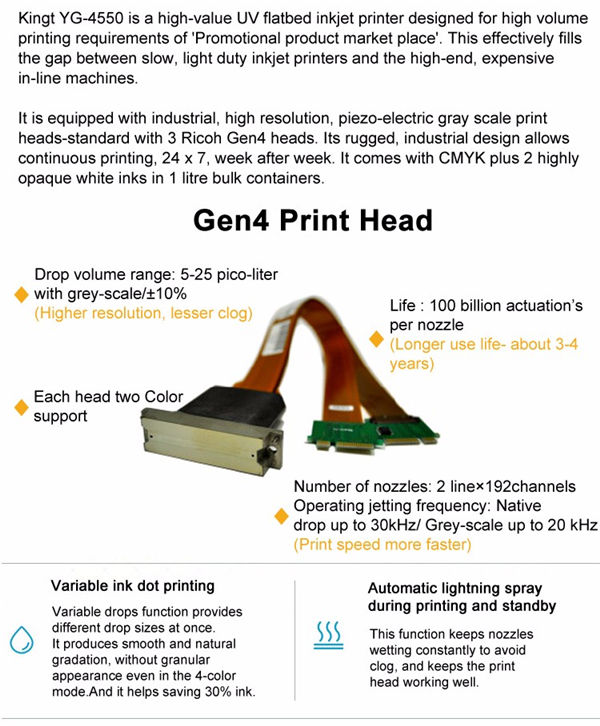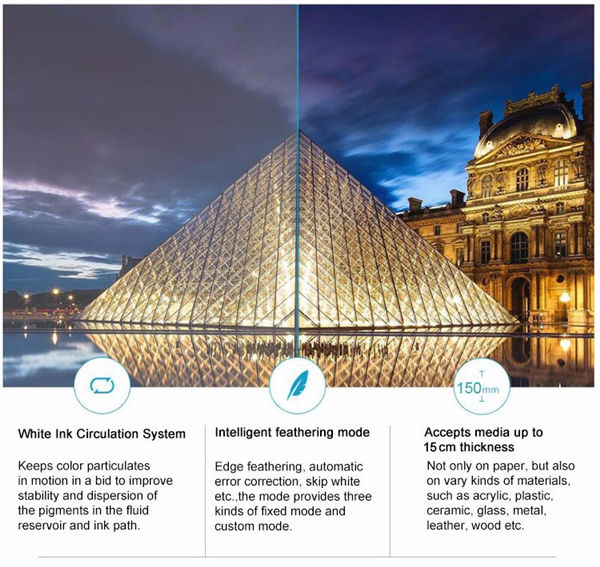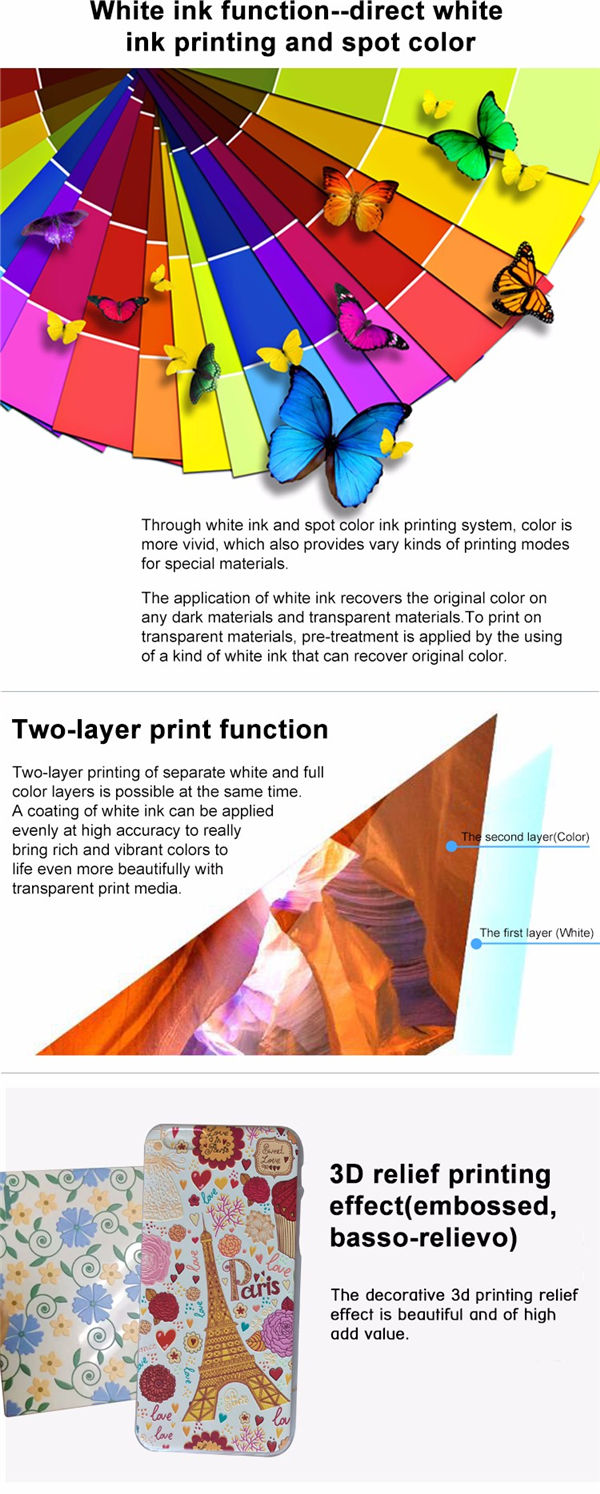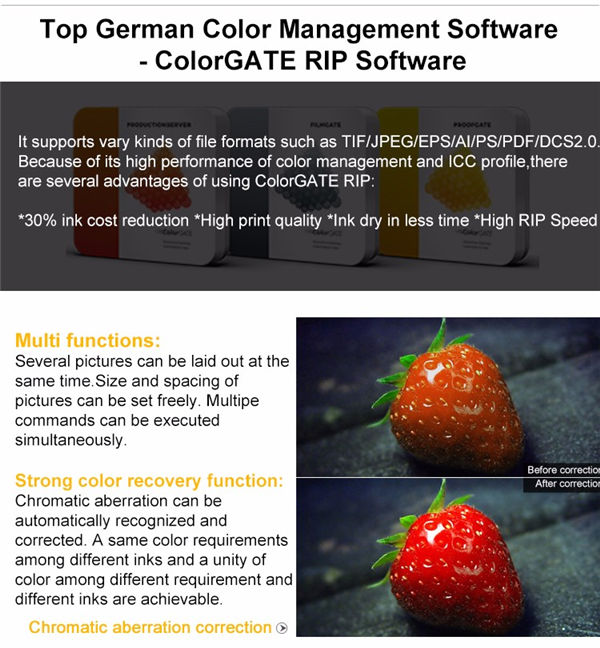 Glavne značilnosti
---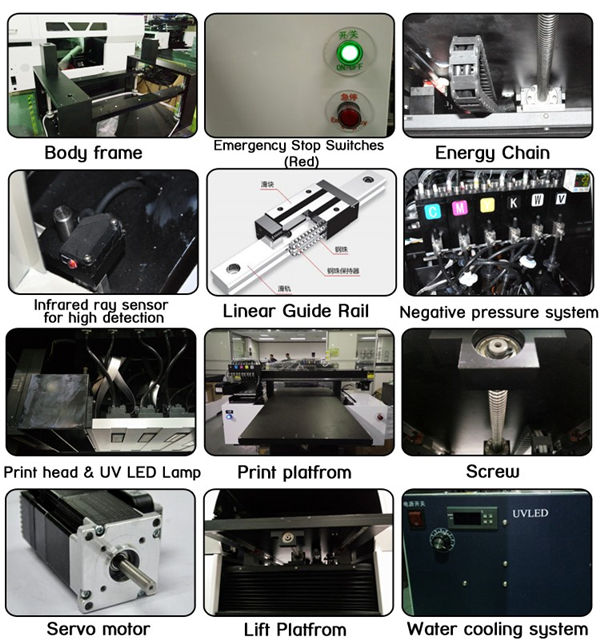 Tehnična specifikacija
---
Tiskalna glava 

3×Ricoh Gen4 industrial printhead Up to 4×printhead (Optional)
Structure
Industrial Structure Frame with Heavy Duty Y-Bar
X&Y Motor
High Quality Servo Motors
Maximum Print Size
45cm(Width)×50cm(Length)
Printing resolution
720×600dpi,1200×900dpi
Smer tiskanja
Uni and Bi-direction
Tehnologija tiskanja
Variable Dot Printing(Grey Scale Printing)
Mediji
Table.Size
46cm(Width)×75cm(Length)
Max.Thickness
15cm with infrared Sensor Protechtion
Utež
15kgs
Tip črnila
UV LED Curable Inks
Barva črnila
C,M,Y,K White(Standard), Varnish (Optional)
Ink Capacity
500ml Bottle
Ink Supply System
Negative Pressure System(NPS)with Automatic Ink Supply
UV Technology
1×6-8W UV LED Lamp
POČIVAJ V MIRU
PhotoPrint(Bundle Version)/ColorGate(Optional)
Vmesnik
USB2.0/3.0
Power requirements
100-110Volt/220-240V,50/60Hz
Assembled Dimensions
890cmx1300cmx650cm
Net Weight
135kgs
Hitrost tiskanja

Resolucija
1200 x 720 dpi
1200 x 720 dpi
Number of Pass
8Pass
12Pass
Direction
One-Direction
One-Direction
Hitrost
1.5 sq.m / hr
1 sq. m / hr
Supplies
ITEM
TYPE
SIZE
PRODUC RANGE
KINGT YG Series
UV LED Curable Ink(Flexible/Rigid substrate)
1L
CMYKLcLmWV
KINGT LE Series
UV LED Curable Ink(Rigid Substrate)
1L
CMYKLcLmWV
KINGT YG Primer
/
1L
/
KINGT YG Primer
/
1L
/
Lastnosti
---
Industrial Y Structure Frame
Constructed with industrial Y frame and structure,the machine is heavy duty and built to last.
Industrial Servo Motor
A high performance of industrial servo motor provides excellent control of the movement of the shuttle.
Ricoh GH2220 Printheads
Latest Ricoh development of industrial GH2220 printheads makes continuous printing at altra-high quality and delivers excellent cost performance
Negative Pressure System
Negative pressure system ink supply with digital control pressure display gauges ensures high-quality printing at higher possible firing frequency,hence increasing printing speed and stability.
Inks and substrates
---
Please note that properties and adhesion, wether resistance etc.of ink and substrates can vary.Please test materials before printing.
Safety notice:
You are handling with UV light source that may harm your health.Do not look directly into the UV light source nor place your hand or expose your skin directly to the UV light source.
All Trademarks or registered trademarks are property of their respective owners.Specifications are subject to change without notice.Some of the screens and printing samples in this catalog are artificial renderings. Inkjet printers print using extremely fine dots, thus colors may vary slightly following replacement of the printing heads. Also note that if using multiple printer units, colors may vary slightly among the units due to slight individual differences among the unit.
Sample Pictures
---