digitalni avtomatski tiskarski stroj a2 a3 a4 uv flatbed tiskalnik

Specifikacije
---
Uporaba: Bill tiskalnik, tiskalnik kartic, krpo tiskalnik, tiskalnik nalepk, papir tiskalnik, Tube tiskalnik
Tip plošče: tiskalnik s ploščato ploščo
Pogoj: Novo
Dimensions(L*W*H):2000mm x 1300mm x 850mm
Weight:180kg
Samodejna stopnja: Samodejno
Napetost: 110V / 220V
Product name:printer on wood
Print head:2 x Eps DX7
Tip črnila: UV Curable Ink
Print size:36inchx24inch
MOQ: 1 komplet
Print color:CMYK +W+V or CMYK
Warranty:2 Year
Print resolution:2880 * 1440dpi
Zagotovljene poprodajne storitve: Inženirji so na voljo za servisiranje strojev v tujini
Opis izdelka
---
LED UV Flatbed Printer uses the latest LED technology, the power is only 63W, with power-saving and environmental, no need pre-heating and without heat radiation, printing material without deformation, the LED lamp has long life, the printing is water proof and resist UV light, and the post-use costs are also greatly reduced.
Tiskalna glava

2×Eps DX7
Način tiskanja
Micro Piezo
Color Mode
CMYK +W+V or CMYK
Print sizes
36inch×24inch
Curing Method
LED Lamp Curing

25000-30000 hours

Max Height
3.5inch(88mm)
Črnilo
Environmental LED UV-cured ink
Memory
128M
Delovno okolje
Temp.: 5~32℃

Humidity: 20~80%

Moč
Working 600W+750W
Standby 50W
Napajanje
AC100~120V/AC220~240V, 50/60Hz±1Hz
Communication
USB2.0/ USB3.0
Printer sizes
2000mm×1300mm×850mm
NW
180kgs
Package sizes
2100mm×1400mm×850mm
G.W.
200kgs
The features of flatbed led uv printer
---
led uv series flatbed printer is a kind of large inkjet printer mainly used to print images on flatbed materials.
the images designed on the computer can be printed out as their original shape.
led uv series flatbed printer can print images on all kinds of flatbed materials.
such as glass, acrylic, pvc foam board, ceramic, aluminum composited panel, corrugated board, aluminum sheet, metal, wave board, woods, mdf, ceiling, wall paper, corrugated paper, timely paste, canvas, leather, etc.
after making coating liquid on surface of glass, it is waterproof.
the maximum printing material thickness is 3.5inch(88mm).
use eps dx7 head, led uv curable ink. c,m,y,k,white and varnish.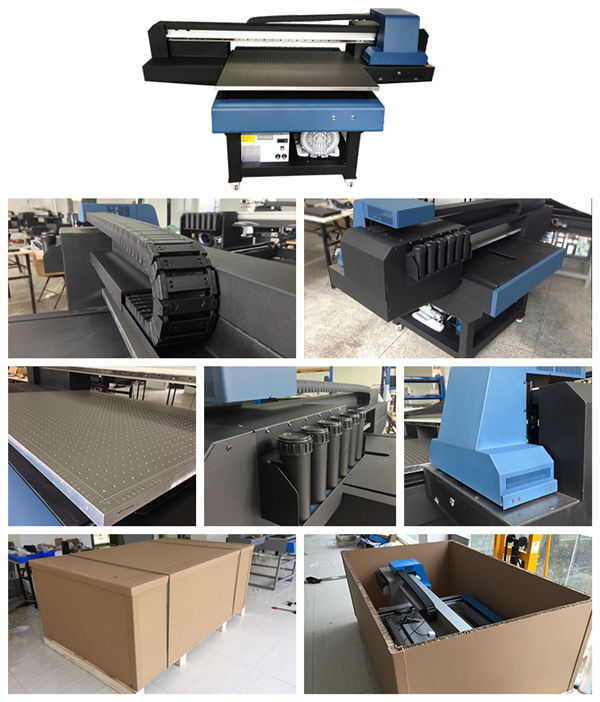 Natisni vzorec
---

O nas
---
It is one of leading manufacturers for series UV flatbed printers. Its products have been exported to many countries and regions. Since establishment, TXC has been working on research and development of UV printers,Our products cover multifunction printer, UV printer, card printer, customized gift printer, T-shirt and garments printer and special printer. We also provide OEM services and accept customized order as well. Best quality and clients' satisfaction is the goal we pursue.
Due to our plentiful manufacture and export experience, you are guaranteed to have competitive price, high quality products, on-time delivery and perfect after sales service, along with a smooth, trouble-free experience. We look forward to being your service.
naše storitve
---
1.Two-year warranty
Our quality is guaranteed 100%, any parts except print head, ink pump and ink cartridges. We will provide new ones within two years. Beyond two years only charge at cost.
2. Prosta izmenjava novih komponent
We will send the manual and teaching video with the package of the printer. Please read the manual and watch the teaching video and operate strictly as the instructions before using the machine.
Ponujali bomo tudi odlične storitve, tako da vam nudimo brezplačno tehnično podporo na spletu.
3. Brezplačno spletno posvetovanje
Tehnik bo ostal na spletu. Ne glede na to, kakšna tehnična vprašanja imate, bi vam naš strokovni tehnik zlahka priskrbel zadovoljiv odgovor.
4. Brezplačna namestitev in usposabljanje na kraju samem
If you are able to help us with getting the visa and also would like to bear the costs involved like flight tickets, food, etc., we can send our technician to your office, and to give you a free installation and training for as long as you know how to operate it.
Pogosta vprašanja
---
1. What media can print on?
It can print on many materials such as phone case, leather, PVC, wooden, plastic, acrylic, pen, wine box, metal sheet, ceramic, glass, textile and fabrics(except UV printers), etc.
2. What effect can LED UV printer can print out?
It can print embossing effect. Further information or samples pictures, please contact our representative salesman.
Vibrant color, clear image, anti-friction, anti-scratch, washable, excellent flexibility and tractility, applicable for outdoor!
3. How to move the machines?
UV printers belong to precise instrument, when you move them, please turn off all power, remove the cartridges and waste cartridge, keep other parts on the printer, and handle with care, keep shaking and heavy goods away from the printer.
4. Does the printing media need a pre-coating?
UV Flatbed Printer can print white inks directly and no need for pre-coating.
5. How can I adjust the print height?
UV Flatbed printer installs infrared sensor, so the printer can detect the height of printing objects automatically.
6. Where can I buy the spare parts and inks?
We provide spare parts and inks, you can buy from directly or through other suppliers in your local market.
7. What about daily maintenance of the printer?
O vzdrževanju priporočamo, da tiskalnik vklopite enkrat na dan.
If you don't use the printer more than 3 days, please clean the print head with cleaning liquid and put it in the protective cartridges which are specially used to protect print head.